Bye-Bye, Leaks and Mess! Hello, So Sure Bladder Control Pad!
December 30, 2019
#JohnLloydAngNagbabalik, BPH, Giveaway, Hysterectomy, Menopause, Overweight, Pregnancy, Product Review, So Sure, So Sure Bladder Control Pads, Urinary Incontinence, UTI,
I believe that most mothers have a recollection of their experiences of having urinary incontinence after giving birth through Normal Spontaneous Delivery (NSD). I know how it feels. I am not an exception to that. It's messy and embarrassing because it would come unexpectedly anywhere, anytime. I would like to share with you two of the most unpleasant situations when I had urinary incontinence. The first one happened when I was grocery shopping with my husband that I had to purchase a new set of underwear because I wasn't able to unzip my pants just in time my urine went out. The second one was the time when I was done closing a business deal that I needed to rush immediately to the washroom but again, I wasn't able to hold my urine until I reached the cubicle. It prompted me to have no choice but to pee on my pants because I could no longer hold my urine. It was so unfortunate that I needed to go home while covering my pants and making sure that a person who knew me would not see me as I rode a cab. How troublesome and humiliating! If only I discovered So Sure earlier, I could skip those two embarrassing moments!
The makers of
So Sure Bladder Control Pad
claim that it is designed to keep you dry and worry-free in times when you feel that you need to be protected from leaks and mess due to urinary incontinence.
Each pad has a superior absorbent core or blue acquisition layers that absorb moisture, locks in wetness, and reduces odor (can absorb three times the amount of normal urine level based on June 2018 laboratory test).
It has an easy-stick and wide adhesive that securely and smoothly holds the pad in place and elastic strands that create a discreet, secure, and comfortable fit.
It is breathable and has a cloth-like back sheet for added comfort.
So Sure Bladder Control pad is suitable for men and women.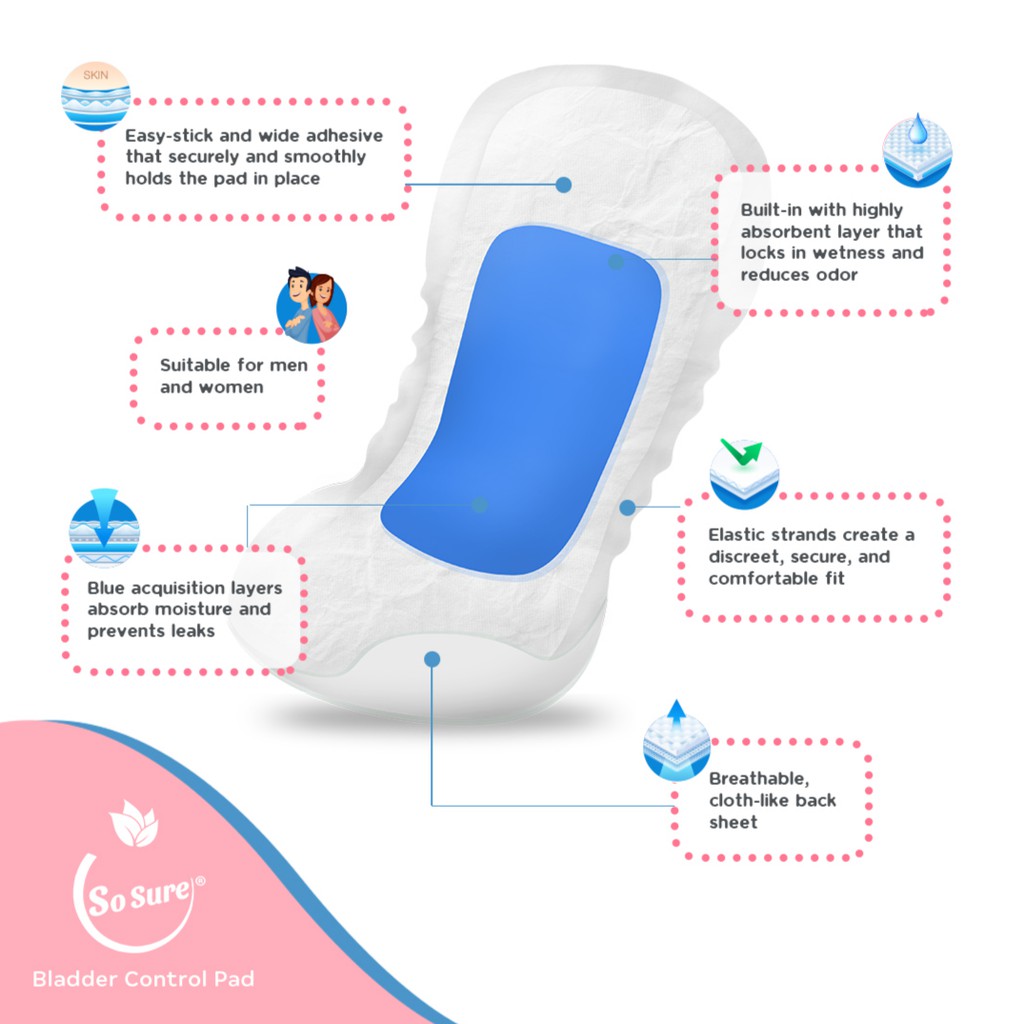 Courtesy: https://shopee.ph/jeunesse.anionpads
So Sure Bladder Control Pad has two sizes:
340 mm for light bladder leakage (SRP Php204/box of 12 pads)
450 mm for light to moderate bladder leakage (SRP Php294/per box of 12 pads).
So Sure Bladder Control Pads are available in Mercury Drug Stores nationwide or online via Lazada PH and Shopee PH.
I tried using both when I was traveling for hours and staying in school for eight hours. I also used size 340 mm as a substitute for my favorite sanitary pads,
Jeunesse
, when I had my period.
Well, the claims are true. The leak and odor control, smoothness and cloth-like feel, plus the anti-bacterial properties are considered its best points for me because they promote peace of mind, hygiene, and comfort.
In line with this, there are three common types of incontinence or bladder leakage that may help you determine the perfect pad for you just in case you want to use So Sure:
Stress Urinary Incontinence- The involuntary loss of urine that occurs when pressure is suddenly placed on your bladder whether it's cough, laugh, sneeze, exercise, or lifting a heavy item.
Urge Urinary Incontinence- Unexpected contraction or squeezing of the bladder muscles that causes a sudden and involuntary urge to urinate immediately.
Overflow Incontinence
- The inability to empty the bladder completely causing urine to overflow and leak without feeling the urge to urinate.
Relaxation or pelvic/vaginal exercise may prevent this urinary incontinence from happening although there are situations where it is inevitable. If you can't control your bladder lately, you don't have to panic that much because it happens to both men and women. Studies show that fifty percent of the population may experience this in their lifetime but I suggest that you should see your doctor to know why it is happening to you just to make sure that you have no underlying medical condition or disease.
You may visit www.sosurepads.ph for more information.
You may also follow @sosurepadsph on Facebook and Instagram for tips, tricks, and other information you need to know about your bladder leakage condition.
If you or your loved ones are experiencing urinary incontinence and would like to try So Sure Bladder Control Pads for free, you may join my Instagram Giveaway to have a chance to win a So Sure Bladder Control Gift Pack!
One lucky winner will get a set of So Sure Bladder Control Pads worth over Php460 or a total of 22 pads! You hay head to my Instagram account to know the easy steps.
I will wait for your entries! You may head again to my Instagram account now to join!