Chia seeds
are the latest addition to today's superfood craze. The seeds are derived from the Salvia hispanica, a type of mint that's believed to have originated from Central America. These tiny powerhouses have plenty of benefits, which have contributed to its popularity. Case in point, PrettyMe's list of the many
benefits of chia seeds
notes how the superfood contains important minerals like calcium and zinc, as well as other healthy compounds such as caffeic acid (for inflammation) and chlorogenic acid (to lower blood pressure). They're also full of antioxidants, which can slow down skin aging.
Courtesy: Pixabay
The best thing about chia seeds, however, is how you don't need a huge amount to reap the health perks. This is why, instead of eating them by themselves, people have opted to mix the seed into food they already eat, making them extremely easy to add to your diet. Here are five ways to do that:

Add them to your water or juice
Courtesy: Mealthy on Pinterest
The easiest way to add chia seeds into your diet is to make it part of your drinking water, or favorite juices. Just dunk some pieces into your beverage for around 20 to 30 minutes, and the seeds will soften enough to easily consume. You won't even have to worry about the chia seeds affecting the taste of your drink, as they have a very mild, subtle taste that can actually complement whatever you're drinking — even water!

Sprinkle them on your smoothie bowls
Courtesy: Baking Ginger
Some smoothies aren't just healthy, but they're also filling enough to sustain you for hours — just like a snack. Luckily, chia seeds are rich in fiber — the only thing other than sugar and starch that fills you up, which means they can certainly make your smoothie work overtime on the health benefits. Just make sure to soak them in water or your ready-made smoothie concoction overnight, so they're nice and gelatinous the following day.

Make chia pudding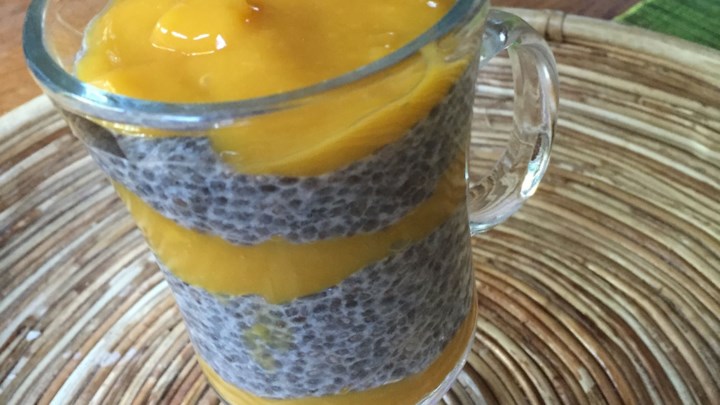 Courtesy: All Recipe
Chia pudding is one of the most popular, and delicious, ways to consume chia seeds. The best part is that you can make one easily. To get you started, here is a yummy,
All Recipe-approved mango chia pudding recipe
. Stir in a bowl almond milk, maple syrup, cinnamon, cardamom, vanilla extract, and chia seeds. Cover the bowl and refrigerate the mixture for at least 8 hours, or even overnight. Then, make mango puree by combining in a blender maple syrup and slices of mango. Blend them until smooth. Layer the chia pudding and mango puree in a container and leave it to sit for around 15 minutes. Afterward, enjoy this tasty, healthy treat!
Turn them into cereal
Like in the case of smoothies, chia seeds make good toppings on your morning bowl of cereal. They lack the artificial sweetness from most store-bought cereals, but they do provide an added crunch along with a laundry list of benefits. If you want to get even more creative with your meal, you can throw in a small serving of maple syrup, honey, or vanilla extract on top.

Toss them into your salad
Courtesy: Floating Kitchen
Like we said, chia seeds are crunchy when they're not soaked, making them perfect for adding some texture into your salad, too. Alternatively, you can also mix them into your
salad dressing
. My Quiet Kitchen's salad recipe details how chia is good for dressing, due to its hydrophilic properties. No need to worry about any solid chunks when its tossed in with liquid. You can even sprinkle some chia seeds to the
Jolly Cow Condensada-infused fusilli salad
we recommended previously.
Overall, chia seeds are a very versatile and tasty ingredient. How do you like to enjoy your chia? Let us know in the comments below!